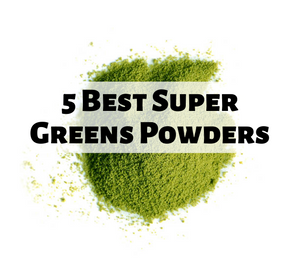 There are a slew of super powder greens, and almost all of them claim to be the best, making it difficult for consumers to choose. However, the problem with most of these super green powders is the ingredients and the price tag they come with. 
In this article, we will talk about the top 5 super green powders on the market—comparing them by ingredient and price—to help you make a healthy and informed decision on your next purchase.
Note: If you are looking for a 100% organic super greens powder that has no sugar or caffeine but contains a multitude of whole foods, Wild Greens is made for you. Grab some here. 
Manufactured by Truwild, Wild Greens is a delicious superfood packed with essential micronutrients and antioxidants to help boost your body's overall health. 
The idea for Truwild was born when co-founders Zac and Nathan, both outdoor enthusiasts, realized that stimulant-based pre-workout drinks were leaving them tired and dehydrated instead of the other way around. 
So, they created a range of hydrating and energizing products, including the super greens powder, Wild Greens, which packs nutrient-dense organic mixed greens, algae, organic raw fiber, and adaptogens. Consequently, in addition to hydrating and energizing, this powerful blend also improves digestion, aids in anti-aging, supports natural detoxification, and boosts immunity.
Why Is Wild Greens Unique?
It has no sugar:

Wild Greens contains no additives or sugar—meaning that it not only supports your immune function but also helps reduce the risk of chronic disease.
It tastes better:

Unlike other super greens, Wild Greens has a taste that consumers love. We use fresh mint leaves and cucumber to achieve a unique and pleasing taste. 
It has more fibers:

The natural fiber blend in Wild Greens slows down digestion to allow maximum nutrient absorption while helping to level blood sugar and soothe the gut.
It's designed for vegans and has no GMOs:

With no synthetic ingredients, fillers, or chemicals, Wild Greens is 100% organic and

GMO-free

. 
It contains 20+ whole organic foods:

Our super greens powder contains 22+ whole foods, making it an excellent, nutrient-dense, and delicious green juice blend.
It is cheaper:

Wild Greens costs $1.45 per stick, which is much more affordable considering its ingredients and compared to other super greens in its category.
Feel like this is exactly what you're looking for? Get your Wild Greens here. 
Ingredients
Wild Greens is filled with nutrient-dense organic mixed greens, algae, organic raw fiber, and adaptogens.
We use the highest concentrated, bioavailable Ashwagandha KSM-66 on the market in combination with immunity-boosting Reishi Mushroom and circulation supporting Maca Root. 
Pros
It contains

antioxidants

—which are excellent for anti-aging, increasing energy and focus, and strengthening immune function.

It has 22+ organic greens—which play a vital role in your overall well-being and help maintain a healthy lifestyle. 

Wild Greens is 100% lab tested for purity and potency.

It is also produced in a GMP and eco-friendly facility.

It contains Ashwagandha KSM-66—which is ideal for helping to elevate mood, reduce stress and promote healthy circulation.

It's gluten-free, vegan, and tastes great.
Pricing
Wild Greens is affordable ($1.45 per stick) compared to greens powders like Liquid I.V. Treat yourself to some Wild Greens now. 
Energy Multiplier is one of Liquid IV's flagship products—and it is a blend of Matcha, Guayusa, and Ginger. It's gluten-free, non-GMO, and vegan. Liquid IV uses Cellular Transport Technology (CTT) to enhance the rapid absorption of water and other key ingredients into the bloodstream. That makes it possible for you to enjoy the effects of Energy Multiplier within moments of consuming it.
Compared to Wild Greens, which has no trace of caffeine, Energy Multiplier contains 100mg of caffeine—roughly equivalent to 1-2 cups of coffee. Moreover, Energy Multiplier includes 8g of added sugar, which raises the risk of chronic diseases for those who drink it regularly. 
Ingredients
It's made of 8g of added sugar.

It contains 2 cups of coffee worth of caffeine.

It's a blend of Matcha, Guayusa, and Ginger.

It contains a wide range of additives, including anhydrous dextrose, citric acid, salt, potassium citrate, sodium citrate, dipotassium phosphate, etc.
Pros
Gluten-free.

Non-GMO.

Vegan.

High in antioxidants.
Cons
This super greens powder contains zero grams of fiber.

It contains very few organic nutrients.

Consumers report it doesn't taste good.

It contains 100 mg of caffeine, which could cause further side effects like insomnia, restlessness, nervousness, nausea, and increased heart rate.

Energy Multiplier contains 8g of added sugar.

It's costly and sells at $1.78 per stick.
Pricing
Energy Multiplier costs $24.99 and contains 14 sticks, which comes to $1,78 per stick. 
Beyond Greens blends Echinacea, Milk Thistle, Rhodiola, and probiotics. It also contains four varieties of mushrooms, including Reishi and Lion's Mane.
These ingredients aid in having a healthy immune system, harmonious gut health, and whole-body detoxification.
This super greens has a very decent taste that is enhanced by the blend of different natural flavors with stevia and salt. 
Beyond Greens contains several health-promoting ingredients, but most doses are probably not enough to be effective. Also, some ingredients represent risks for some customers. For example, it contains a cinnamon extract that is risky at high doses due to potential liver problems. This is due to a substance called coumarin, which may be the culprit for this risk.
Ingredients
Cleansing Milk Thistle & Chlorella.

Energizing Matcha & Rhodiola.

A mix of echinacea, probiotics, and mushrooms.

There are 14 ingredients in Beyond Greens, compared to 22+ in Wild Greens.
Pros
It has a reasonable return policy.

Users say it tastes okay but not great.

It has anti-inflammatory effects.

It boosts energy levels.
Cons
It contains a wide range of substances, some of which may be harmful to your stomach.

It's expensive.

Although it claims to be third-party tested, it does not have a verified seal.

It only contains 14 ingredients compared to Wild Greens, which is more comprehensive with

22 whole foods

.
Pricing
One jar of Beyond Greens costs $39 99 and can be consumed in 1 month. This means that it costs $1.33 per day—more expensive than Wild Greens, even with fewer ingredients. 
Created in 2010, Athletic Greens is one of the most popular green powders on the market today. This super greens has 75 ingredients, 21 of which are vitamins and minerals and other additives.
Athletic Greens supports many bodily functions, including gut health, immunity, liver function, and detoxification. It also contains 2g of dietary fiber, slightly less than Wild Greens, which contains 3g. 
Ingredients
Athletic Greens contains a complex of nutrient-dense and alkaline raw superfoods.

It is also a blend of nutrient-dense extracts, herbs, and antioxidants. 

Each serving of Athletic Greens provides 50 calories, 6g of total carbohydrates, and 2g of protein. 
Pros
Steadier energy throughout the day.

Improved digestion and regularity.

Efficiently fills diet gaps.
Cons
It contains a massive dose of Vitamin C (700% of the recommended dose)

The flavor is not natural; it is derived from additives.

It needs to be refrigerated, which can be inconvenient for travel if you don't purchase the travel packets.

Lots of negative consumer reports. 

Pricing is very steep.
Pricing
Athletic Greens is quite expensive—a monthly subscription costs $99. This price includes 30 servings, which equals $3.30 per serving. 
Amazing Grass owes its presence in this list to its ingredients. This greens powder is available in several flavors, including The Original, Orange Dream, Pumpkin Spice, Chocolate, Berry, and Holiday Cookie. 
It contains a blend of pre- and probiotic ingredients, including broccoli, chlorella, spinach, alfalfa, spirulina, barley grass, and wheatgrass. In spite of these ingredients, Amazing Grass is not 100% organic. Many users say it has a somewhat grassy taste, so you'll do well to mix it into a smoothie, yogurt, or any other sweet drink of your choice. 
Ingredients
It contains a blend of spirulina, moringa, mushrooms, and adaptogens.

It contains a variety of additives.

Just like Athletic Greens, Amazing Grass contains 2g of fiber.
Pros
Amazing Grass is affordable.  

It acts as a source of digestive enzymes.

It's rich in vitamins A, C, and K.
Cons
Poor taste. 

It's not 100% organic.
Pricing
Amazing Grass costs $14.99 and contains 30 servings per container. 
What Super Greens Powder Is Right for You?
If you want an affordable super greens powder, whether it's organic or not, and irrespective of its ingredients, any of the above-mentioned super greens can work for you.
But if you're looking for a 100% organic greens powder that contains zero sugar, lots of fiber, and a variety of whole foods, Wild Greens is for you. 
Here are signs Wild Greens is for you.
You want to stay away from sugar at all costs.

You don't fancy caffeine.

You enjoy being in a good mood.

You are tired of super greens powder tasting horrible. 
Oh, did I mention that Wild Greens only costs $1.45 per stick even with all these ingredients?